Dhaka to get more modern public toilets: Mayors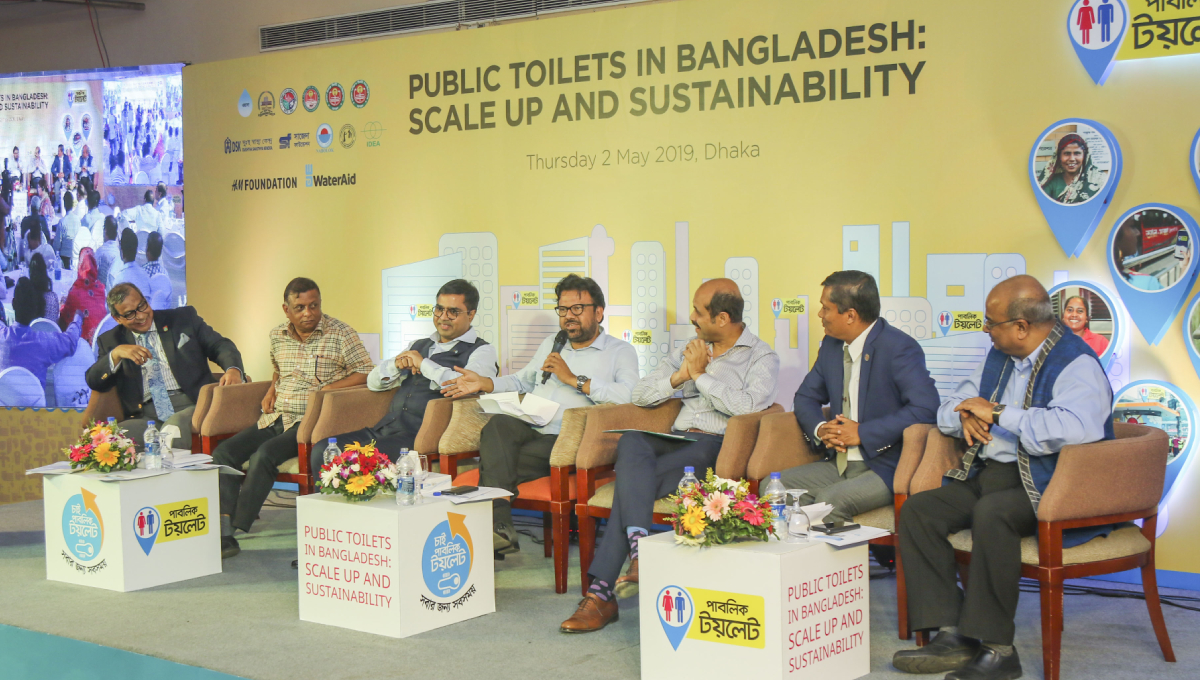 Dhaka, May 2 : Mayors of Dhaka North, Dhaka South and Sylhet city corporations have assured of setting up more modern and standard public toilets in their respective cities while Dhaka Wasa managing director promised to supply water to those toilets at lower tariffs.
They have also identified lack of available spaces as a big problem to set up public toilets and suggested establishing public toilets on the premises of CNG and petrol pumps.
The top bosses of the organisations came up with the comments at a views-exchange meeting jointly organised by the Bhorer Kagoj and WaterAid, a leading NGO working on water related issues, at a city hotel on Thursday.
Dhaka North City Corporation (DNCC) Mayor Atiqul Islam, Dhaka South City Corporation (DSCC) Mayor Sayeed Khokon, Sylhet City Corporation (SCC) Mayor Ariful Haque Chowdhury, Dhaka Wasa Managing Director Taqsem A Khan, Khulna Development Authority Chairman Brig Gen ASM Mahmud Hasan and WaterAid Country Director Khairul Islam addressed the function conducted by Bhorer Kagoj Editor Shaymal Dutta.
At the open discussion, speakers alleged that Dhaka city severely lacks modern and user-friendly standard public toilets for which people have to suffer a lot.
Even, the existing toilets which are located in different markets are not clean and user-friendly, they said.
DNCC Mayor Atiqul Islam said his city corporation has taken a project under which 53 modern public toilets and 27 parks will be built in areas under his jurisdiction.
"We've already built some public toilets maintaining 5-star standard where clean water, soaps, tissue papers and towels are available. Now, more toilets are being built," he said, adding that the management of these toilets is run by the third party.
Appreciating WaterAid for extending its support to run the management efficiently, he said the third party management is a very smart solution for running those toilets. "Without outsourcing of the third party management, it's impossible to run those alone."
Atiqul said if CNG and petrol pumps provide spaces for public toilets, the DNCC will go for constructing those.
He also assured that steps will be taken to turn the existing toilets at city corporation markets user-friendly and new markets will be forced to ensure modern toilet facilities.
DSCC Mayor Sayeed Khokon said his city corporation will hand over the management of commercials on LED-screen billboards to selected NGOs so that they can operate modern toilets by the income from rent of those screens.
SCC Mayor Ariful Haque Chowdhury said his city corporation has built a number of toilets and now those are being run by students with some innovative commercial systems.
Dhaka Wasa Managing Director Taqsem A Khan said if city corporations come up with projects to build modern and standard toilets, his organisation will supply water to those toilets at household rate instead of commercial one as a sign of support.