10 Bangladeshi talents receive training in China under Huawei's CSR prog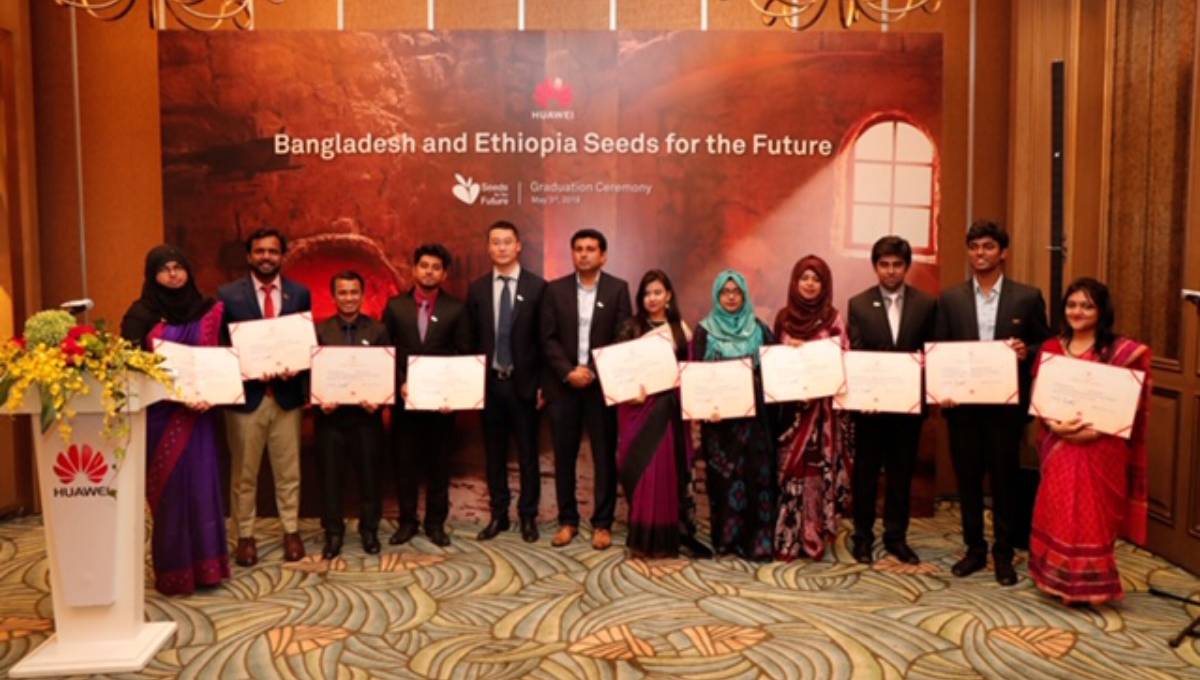 Shenzhen (China), May 3 : Graduation ceremony of Huawei's biggest CSR program 'Seeds for the Future 2019' was held in Shenzhen, China at the headquarters of the company where 10 Bangladeshi ICT talents selected from five renowned received extensive training on technologies.
Yan Lei, Huawei Public Relationship Director, and 10 other students from Ethiopia were present .
This year, the students received wide range of training and technological orientation in China. In Beijing, the students received Comprehensive Chinese language course and learned Chinese Calligraphy and Taiji.
In Shenzhen, they got an overview of telecommunication network, key technologies in ICT, different generations of mobile communication (from 1G to 5G), Artificial Intelligence, Big Data, Cloud Computing, Edge Computing, Internet of Things, 4G and 5G Base station configuration, etc.
This year's Seeds for the Future program started in Bangladesh on February 17 in Dhaka.
Later on, 10 ICT talents were chosen from five renowned universities of Bangladesh through selection round throughout the month of March.
The universities were Dhaka University, Bangladesh University of Engineering & Technology (BUET), Rajshahi University of Engineering and Technology (RUET), Khulna University of Engineering and Technology (KUET) and Chittagong University of Engineering and Technology (CUET).
Before moving to China, Huawei Bangladesh organized the gala event with the 10 students who gave presentations on E-transport, E-education, Safe City & Smart City, E-banking and E-governance, on 3rd April.
Posts,Telecommunications and Information Technology Minister  Mustafa Jabbar was present as the Chief Guest both at the press conference and gala event.
On 19th April, the students left Dhaka for China and the next day, they visited and learnt about the historical places of China as part of study tour.
On the next day, Huawei welcomed the students in Beijing with opening ceremony at Huawei executive briefing center.
Then in the next two weeks, the students got idea about Chinese culture and language in local university and finally gained practical knowledge in latest technologies at the headquarters of Huawei in Shenzhen, China.
At the graduation ceremony, Yan Lei, Huawei's Public Relationship Director said, "Congratulations to the top talents of Bangladesh. With increasing number of ICT talents, this country never stops making us impressed. "
"They are truly advancing at a fast speed and we hope that their dream of Digital Bangladesh will be fulfilled in no time. It is an honor to be a part of such a fast moving nation being a close partner of digitalization, " he said.
Seeds for the Future is the most heavily invested CSR program of Huawei which began in 2008. It has reached 108 countries and regions benefitting more than 30,000 students from 350 universities of the world.
Among them, 3,600 students have experienced practical work experience during the study tour to Huawei's headquarters.
The main objective of this program is to help develop industry oriented skills among the students to bridge the gap between academia and industry.
About the progamme, Tasfia Zahin ,Bangladesh University of Engineering and Technology student) and  Student Representative of Seeds for the Future Bangladesh 2019, said, " We learned about key technologies in ICT, the four generations of mobile communication and most importantly the 5th generation network or 5g. "