BNP calls Zahidur a 'mass enemy'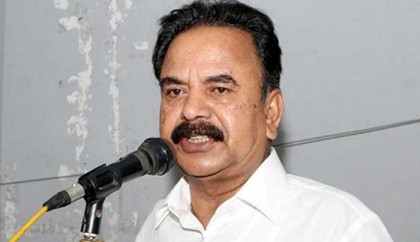 Dhaka, Apr 25 : BNP on Thursday said its Thakurgaon-3 MP elect Zahidur Rahman has become a 'mass enemy' by taking oath violating the party decision.
"Those who take oath defying the party decision, leaving its ideal and keeping its chairperson in jail, has no capability to remain with the nationalist force. They're mass enemies," said BNP standing committee member Gayeshwar Chandra Roy.
He came up with the remarks at a human chain programme in front of the Jatiya Press Club nearly an hour after  Zahidur was sown in.
The BNP leader said people will give befitting reply to Zahid for breaching the party decision.
"Our party decision is that we won't go to parliament and if anyone violates the party decision he can't be considered as a party man," said the BNP leader.
Bangladesh Mufassil Sangbadik Forum arranged the human-chain programme demanding the release of BNP chairperson Khaleda Zia from jail.
Earlier, BNP MP-elect Zahidur Rahman of (Thakurgaon-3) took oath as a member of the 11th Parliament on Thursday, violating his party decision
Speaker Dr Shirin Sharmin Chaudhury administered the swearing-in around 12:00 pm at the Jatiya Sangsad Bhaban while parliament senior secretary Dr Zafar Ahmed Khan conducted the oath-taking ceremony.