Will succeed before golden jubilee of independence: Dr Kamal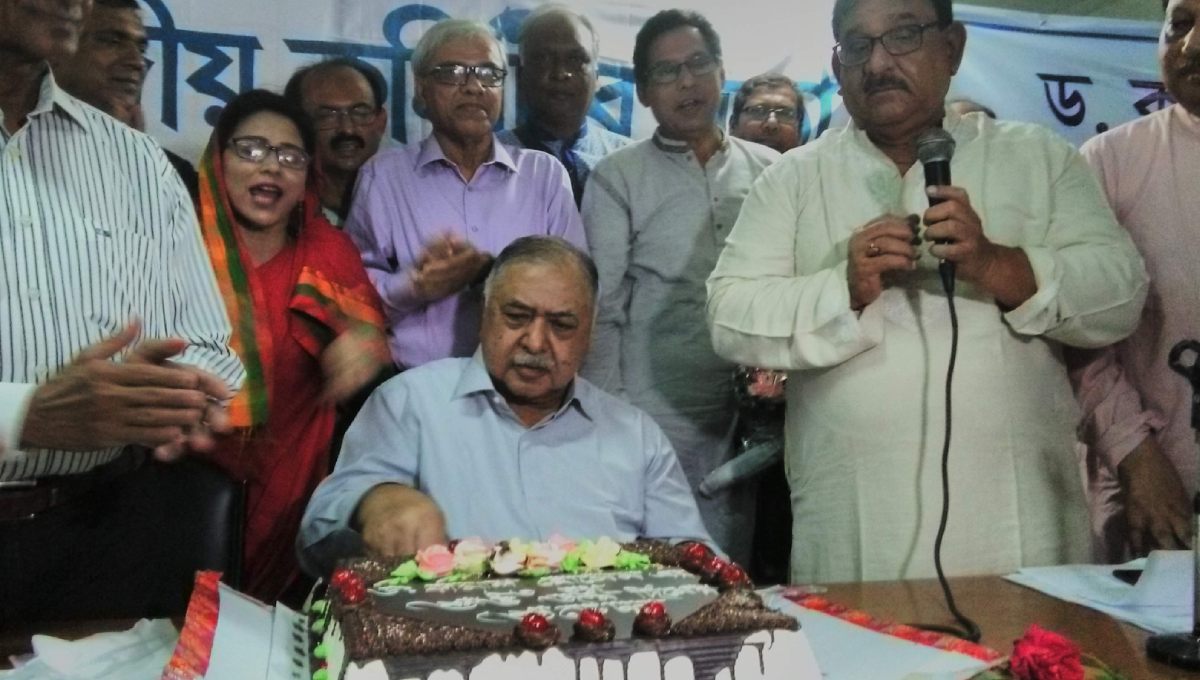 Dhaka, Apr 20 : Jatiya Oikyafront Convener and Gonoforum President Dr Kamal Hossain on Saturday hoped that people will be successful in bringing a change through a movement before the golden jubilee of the country's independence.
On his 83rd birthday, Dr Kamal also anticipated that a functional democracy in the country can be ensured through constructive politics.
Earlier, Gonoforum leaders and activists warmly received Kamal with wreaths when he reached the party office around 10am and wished him happy birthday.
Later, the Gonoforum chief cut a cake celebrating his 83rd birthday followed by a brief cultural programme.
Later, a meeting of Gonoforum central committee was held there after the celebration.
Speaking at the meeting, Dr Kamal said, "The country's people will be successful through a movement. A bright future is waiting for those involved with democratic movements, including quota (reform) and safe road ones. We'll succeed before the 50th anniversary of the independence."
He also said a process is going on to bring a qualitative change in the country as per people's desire. "We hope we'll be able to ensure the desired change through constructive politics and political programmes."
Dr Kamal said people want a functional democracy and their involvement with the activities at all levels for a qualitative change in the country.
Stating that Gonoforum is now a strong party, Dr Kamal urged its leaders to work for strengthening the organisation by involving people at every union, thana and district.  "We've to build the organisation in such a way so that the people of all walks of life can consider it as their own organization."
The Gonoforum chief also urged the party leaders to take steps for increasing the number of its members and ensure the representation of people of all classes and professions in Gonoforum.
"We must keep it in mind that carrying out meaningful activities and bringing a change in the country are not possible without a strong organisation. I think we'll be able to ensure a qualitative change if we can make our organisation stronger."
Kamal, also a close associate of Father of the Nation Bangabandhu Sheikh Mujibur Rahman, was born in Kolkata, West Bengal on April 20, 1937.
He married human right activist Hamida Khan, and the couple has two daughters–Sara Hossain and Dina Hossain.
A globally renowned jurist, Dr Kamal Hossain obtained his Bachelor of Jurisprudence degree with honours from the University of Oxford in 1957 and a Bachelor of Civil Law from the same institution in 1958. In 1964, he was awarded a Doctorate degree in International Law.
During the Bangladesh Liberation War, he was detained by the then Pakistani government and kept in custody in West Pakistan. He was later freed together with Bangabandhu Sheikh Mujibur Rahman.
After the country's independence, Dr Kamal served the government of Bangladesh under Sheikh Mujibur Rahman first as the law minister, then as the foreign and later as energy minister.
He was also the chairman of the drafting committee of the Constituent Assembly, and led the process until the 1972 Constitution of Bangladesh was produced.
Dr Kamal formed Gonoforum deserting Awami League in 1992.
Before the 11th parliamentary election, Gonoforum and some other parties formed a new alliance, Jatiya Oikyafront, with BNP on October 13, 2018 under Kamal Hossain's leadership, but it got only eight seats in the polls.