UNFPA launches 'State of World Population Report 2019'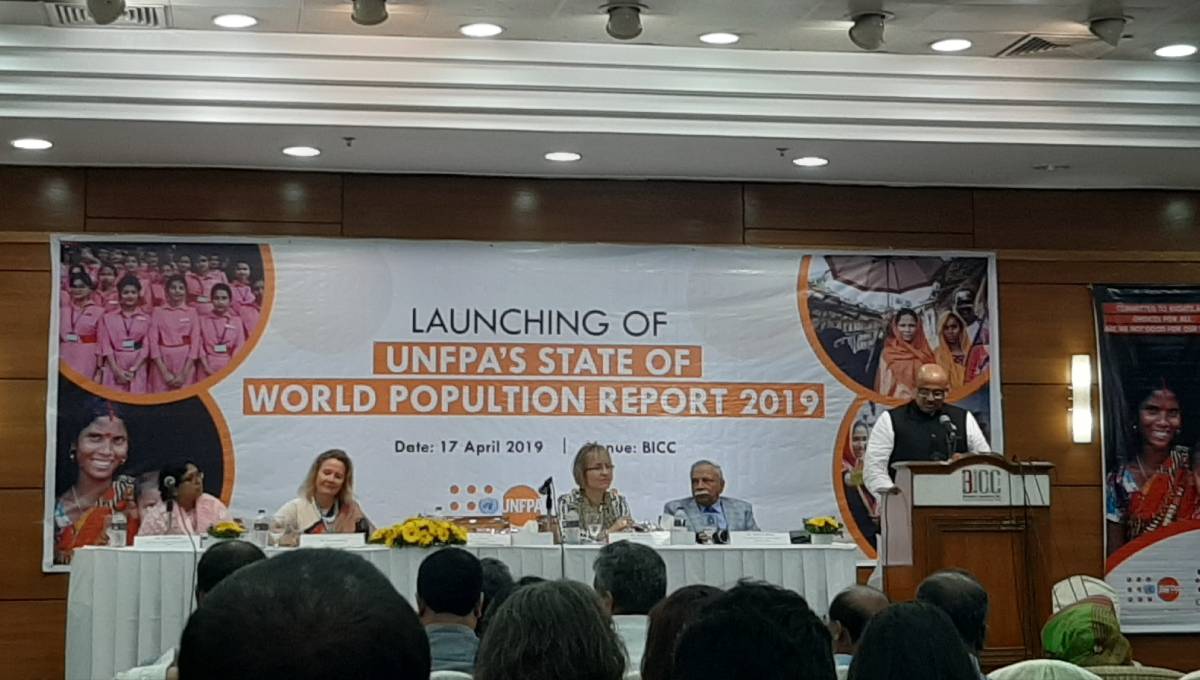 Dhaka, Apr 17 : Calling upon each stakeholders including Bangladesh for the fulfillment of the ICPD commitments,  overcoming obstacles and embracing a better future, the United Nations Population Fund (UNFPA) launched its annual flagship report 'State of World Population 2019' on Wednesday.
Themed 'Unfinished business: The pursuit of rights and choices for all', the report has been published marking 50 years of UNFPA operations and 25 years since the International Conference on Population and Development (ICPD) in Cairo.
The launching ceremony, arranged by UNFPA, was held at Bangabandhu International Convention Center in Dhaka.
State minister for Health and Family Welfare Murad Hasan, the launching ceremony's chief guest, said that Bangladesh is committed to contributing to the realisation of ICPD agendas.
"We're optimistic that with our efforts and multi-sectorial collaboration, we'll soon be able to overcome the remaining challenges and build an equal Bangladesh for everyone regardless of gender identity," he hoped.
Other speakers at the programme called for the full realisation of sexual and reproductive health rights for all.
The State Minister mentioned that Bangladesh has already proved itself as a great champion of women's empowerment.
He acknowledged existing challenges saying, "We are well ahead of most of our neighbouring countries in promoting women empowerment.
"Challenges still remain in achieving gender equality, namely, eradication of violence against women,  prevention of child marriage and addressing gender digital divide. "
He assured that government is aware and working in full capacity to tackle these challenges.
UN Resident Coordinator in Bangladesh Mia Seppo noted that violence against women remains a serious issue in parts of the region.
"These are concerning facts and drive home that it's imperative that we complete the unfinished business of guaranteeing rights and choices for all," Seppo said.
"The governments who made pledges to the ICPD programme of actions should keep their promises, with special attention to reaching those who are left behind – the young, the poor and people in rural areas," she added.
Seppo urged the governments to uphold people's sexual and reproductive rights and protect them from child marriage, gender violence and other harmful practices.
Dr Asa Torkelsson, UNFPA Representative in Bangladesh, said the 50th anniversary of UNFPA as well as 25th anniversary of ICPD presents a unique opportunity for the global community to fully commit to realising a visionary agenda for sexual and reproductive health and rights based on ICPD framework.
She emphasised other perspective for applying the agenda saying, "This agenda must pay attention to population dynamics, recognise the diverse challenges faced by different countries at various stages of development, and ground policies and programmes."
Dr Barkat e Khuda, former professor of Dhaka University and Dr Muzaffer Ahmed Chair Professor, Bangladesh Institute of Bank Management elaborated on the prospects and challenges toward the achievement of ICPD for Bangladesh while Soheli Parvin, head teacher of Burichar AMG Secondary High School, Barguna shared her experience and reflection on providing life skills at school.
The launching event was followed by a question and answer session and a press conference.