Bangladesh seeks global collective efforts to save planet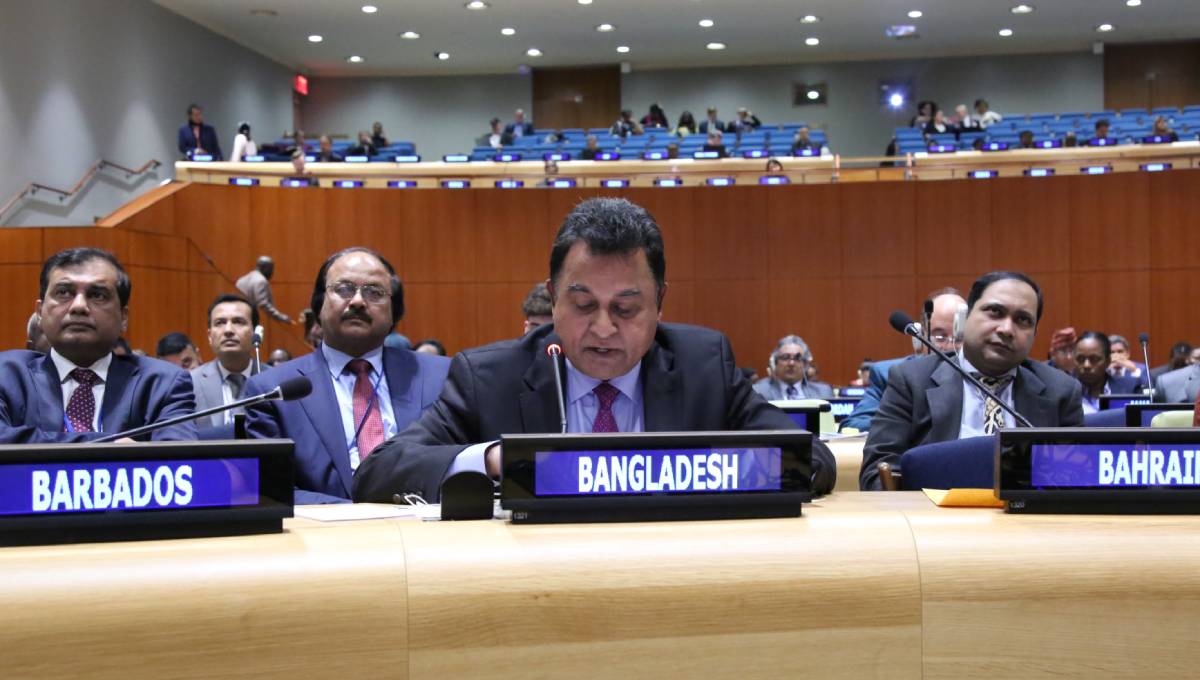 Dhaka, April 16 : Bangladesh has sought collective efforts of the international community to save the planet.
Finance Minister AHM Mustafa Kamal made the call at the general debate of the ECOSOC (Economic and Social Council) Forum on Financing for Development (FFD) at the UN Headquarters on Monday.
He said climate change is hugely impacting Bangladesh's development efforts although it is not responsible for it, according to Permanent Mission of Bangladesh to the United Nations (UN).
The Finance Minister also urged the international community to revisit the policy to extend support measures to the graduating countries in the initial stages in order to help them to enjoy and maintain a smooth and sustained graduation.
Mentioning the visionary leadership of Prime Minister Sheikh Hasina for achieving sustained graduation, the Finance Minister said graduation from the LDC category has been national aspiration and Bangladesh has been making fast strides to achieve sustainable development articulated in its national Vision 2021 and Vision 2041.
The Minister mentioned that the growth rate of Bangladesh has gone up from 6.5 percent in 2014 to 8.13 percent in 2018 and the per capita GNI has increased by more than 250 percent between 2006 and 2018.
He observed that Bangladesh could reduce the poverty level from 40 percent in 2006 to 21.4 percent in 2018 by adopting an inclusive and equitable development policy.
"We are a nation of 160 million people with a common dream of transforming the country into 'Sonar Bangla' –'a developed nation' by 2041 following the aspiration of our founding Father of the Nation, Bangabandu Sheikh Mujibur Rahman," the Minister added.
Displaced Rohingyas are putting a considerable stress on Bangladesh's development
Mentioning that the forcibly displaced Rohingya from Myanmar are putting a considerable stress on Bangladesh's development the Minister emphasized on their sustainable repatriation to their homeland.
He also urged the international community to come forward for the permanent solution of this crisis.
The UN secretary-general, president of the General Assembly, ministers from members states, high-level officials from ministries of finance, foreign affairs and development cooperation, executive directors of the World Bank and IMF, as well as senior officials from the UN system, including the major stakeholders, and other international organizations, civil society organizations, the business sector and local authorities participated at the 4th FFD forum being held in New York.
The ECOSOC Forum on Financing for Development (FFD) follow-up is an intergovernmental process with universal participation mandated to review the implementation of the Addis Ababa Action Agenda (Addis Agenda) and other financing for development outcomes and the means of implementation of the Sustainable Development Goals (SDGs).
The fourth ECOSOC Forum on Financing for Development (FFD Forum) commenced on 15 April and will end on 18 April 2019.
The Finance Minister met UNDP administrator Achim Steiner and Executive Director of Green Climate Fund Yannick Glemarec at the sideline of the event.