The letter Rafi wrote, but never delivered
"I will make an example of him, such that other perverts like him may learn a lesson"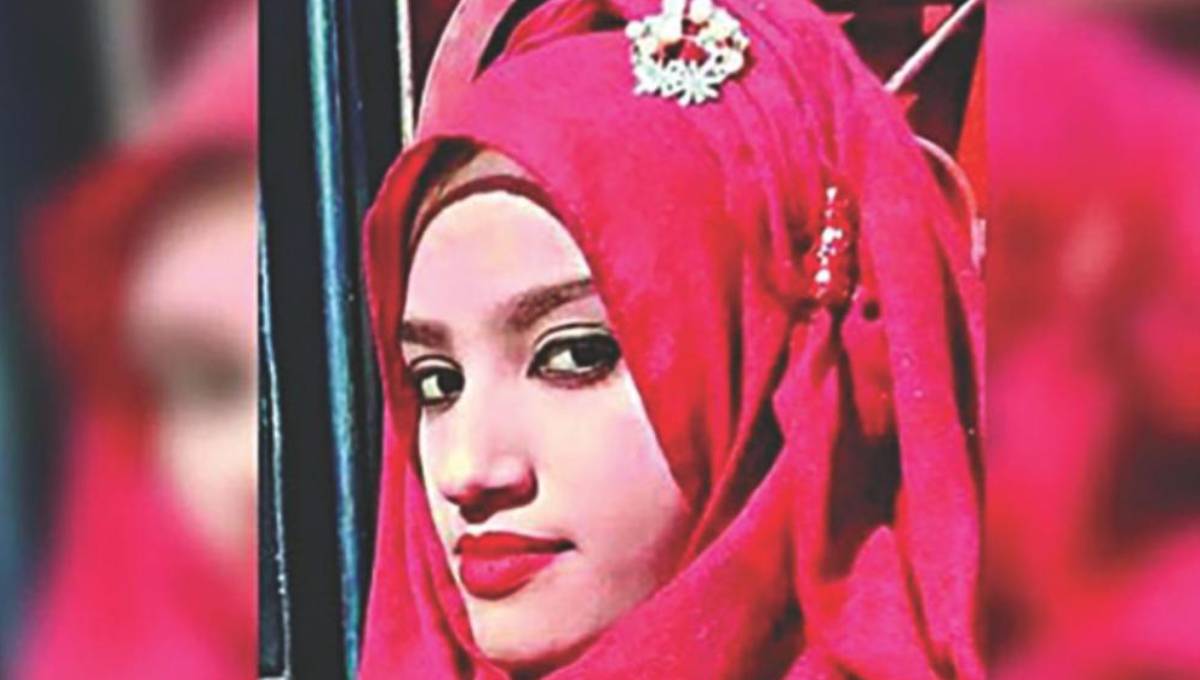 Feni, Apr 11 : "My mistake at first was in trying to take my own life. Won't make that mistake again.  To kill yourself is to accept defeat. I will not do that. Rather I will stay alive and punish the one who caused me to suffer. And through punishing him, I will make an example of him, such that other perverts like him may learn a lesson. He will get such punishment which will teach others. I will give him the toughest punishment, Insh'Allah (God willing)!"
That was a section of the letter Nusrat Jahan Rafi, who lost her battle to survive a gruesome arson attack at DMCH last night, wrote in what would presumably have been a letter to her two best friends. Her untimely death following the brazen attack however means it will remain unsent.
The letter was recovered from her house on Tuesday afternoon, said Officer-in-Charge of Sonagazi Model Police Station Md Moazzem Hossain.
Rafi who sustained 80 percent burn injuries, had written the two-page letter to Tamanna and Sathi, two of her best friends, where she poured out her heart on matters that had been  disturbing her since March 27, the day she was sexually harassed by the principal of her madrasah, Siraj-ud-Doula.
She also expressed her disappointment over the participation of her friends in a subsequent programme demanding release of their principal after his arrest.
Rafi in the letter said "Tamanna, Sathi, you are like sisters to me and you are my sisters indeed. That day Tamanna was saying that I was staging a drama. She also said it in front of you.
"Many other things she said that you told Nishat that we are bad girls. Sister, is it bad to be in love? How can you guys demand Sirajuddoula's release when you know everything about him? Don't you know what happened in that room? Where he touched me and where else he tried to touch?
"He told me that- 'Nusrat don't do drama, you have an affair; enjoy having affair with boys; but what they can give you? I will give you the questions before the exams.' In return I should give him my body. I would rather fight until my last breath."
The letter concludes with the section quoted at the start. Though the time and date was not written in the letter, police believe the victim wrote it recently.
Last Saturday, Rafi was lured to the roof of the madrasah she attended, and set on fire by 4 burqa-clad women, whose voices she couldn't recognise, and the one name she picked up was Shompa, as they left.
Presumably students loyal to Principal Siraj ud Dowla, who remains arrested and suspended from his duties as principal since Rafi accused him of sexually harassing her, they demanded she drop the charges against Siraj ud Dowla, but she refused.
Suffering upto 80 percent burns to her body, her odds of survival were bound to be insurmountable even as she fought to stay alive – true to the words in the unsent letter to her sisters – a brave young girl on the cusp of taking on the world, raging against the dying of the light.
Nusrat Jahan Rafi's struggle to survive captured the attention and prayers of the nation, but news of her death streamed through to a hushed nation at approximately 9.30pm on Wednesday. She was 18 years old.