Tearful adieu to madrasa girl Nusrat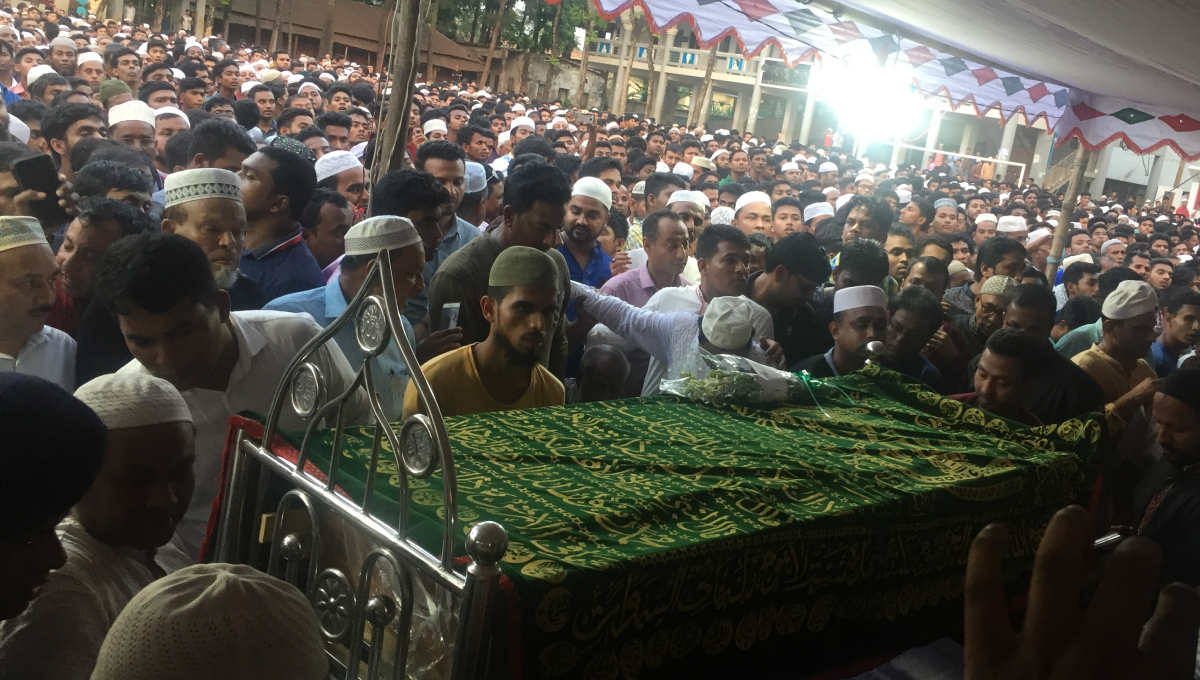 She was buried at their family graveyard at Char Chandia village following a namaz-e-janaza at Mohammad Saber Pilot High School ground around 5:50pm. Nusrat's father Maulana KM Musa, also a madrasa teacher, conducted the janaza attended by thousands of people.
A pall of gloom descended on the school field as Musa broke down in tears at that time.
Deputy Commissioner Wahiduzzaman, Superintendent of Police SM Jahangir Alam Sarker, Additional Deputy Commissioner PKM Enamul Karim, Sonagazi Upazila Parishad Chairman Jahir Uddin and Upazila Nirbahi Officer Sohel Parvez, among others, joined the janaza.
After fighting for her life for five days, Nusrat who was set afire in Songazi upazila of Feni succumbed to her injuries at Dhaka Medical College Hospital (DMCH) in the capital on Wednesday night.
The body was handed over to the family following an autopsy on Thursday morning.
The body was brought to her village home in the afternoon. An ambulance carrying the body arrived at her home around 5pm.
A heart-rending scene was created at that time as tears rolled down the cheeks of relatives, classmates, other students of the madrasa as well as locals.
Prime Minister's directive 
Prime Minister Sheikh Hasina has directed law enforcement agencies to take stern actions against the killers of Nusrat.
"The Prime Minister has ordered the law enforcement agencies to take tough action against the killers of Nusrat and bring them to justice," PM's Press Secretary Ihsanul Karim said.
Reaction of Home and Law Ministers 
Home Minister Asaduzzaman Khan said the Police Bureau of Investigation (PBI) has been instructed to investigate the incident quickly. The charge-sheet in this regard will be also submitted soon.
Law Minister Anisul Huq said instruction will be given to send the Nusrat case to the Speedy Trial Tribunal for its quick disposal when its charge-sheet is submitted to the court.
On 6 April, Nusrat was set afire an examination centre of Alim examination allegedly by students loyal to principal Sirajuddoula of Sonagazi Senior Fazil Madrasa after he was arrested and subsequently suspended as Rafi had accused him of sexually harassing her.
She was immediately sent to the DMCH where she underwent a surgery on Tuesday under life support.
The operation conducted after discussion with the physicians from Singapore General Hospital as she was not fit enough to be flown to Singapore.
On Monday, Prime Minister Sheikh Hasina directed for sending the madrasa girl to Singapore for better treatment.
Ten people, including the madrasa principal, have so far been arrested in connection with the arson attack.
On Tuesday, Feni police arrested a student of Sonagazi Islamia Senior Fazil Madrasa, Shampa, over setting fire on Rafi.
On Monday, in a declaration, Rafi told her doctors that four students wearing burqas set her on fire. She identified one of them as Shampa.
Meanwhile, a Feni court on Wednesday placed the principal on a seven-day remand and two other people on a five-day one over the incident. The two others are Abser Uddin, lecturer of English department of the madrasa, and student Arif.
The case, filed accusing eight identified people, including madrasa principal Sirajuddoula, lecturer of English Absar Uddin, Feni municipality councillor Maksudul Alam Maksud, and four unidentified ones, was handed over to PBI on Wednesday.