Preparations afoot to bring out 'Mangal Shobhajatra'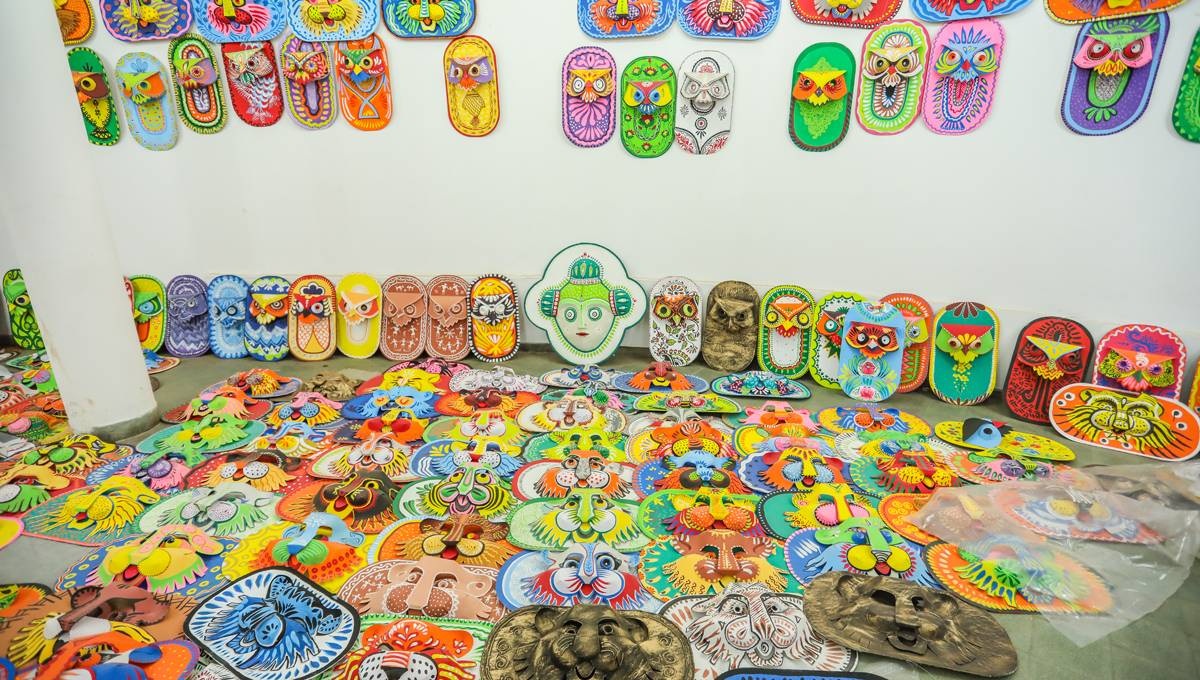 Dhaka, Apr 11 : Preparations for bringing out the 'Mangal Shobhajatra' (procession of good wishes) is going on in full swing on the Dhaka University campus as part the Pahela Baishakh celebrations.
Every year, on April 14 (Bengali New Year), students of the Fine Art Faculty of Dhaka University bring out the 'Mangal Shobhajatra' which got the recognition from Unesco as an intangible cultural heritage in 2016.
The festival symbolises the pride the people of Bangladesh have in their folk heritage, as well as their strength and courage to fight against sinister forces and their vindication of truth and justice.
Visiting the Faculty of Fine Art of Dhaka University (Charukola), the UNB correspondent found the students busy making painting masks and replicas of birds, butterflies, charka, traditional dolls and other motifs of Bangladeshi culture.
The Fine Art Faculty wore a festive look with enthusiastic presence of senior and junior students all working together to make the programme a success.
Some 500 people, including present and former students and teachers, are taking part in the preparation of the grand programme which formally began on March 18.
Adil Hasnat, a Master's degree student of Drawing and Painting Department of Fine Art Faculty, said they have been working relentlessly from dawn to dusk to make the 'Mangal Shobhajatra' a success.
He said their main focus is on portraying the local tradition through paintings, replicas and masks which have been put on display for sale.
Convener of the procession and dean of the Fine Art Faculty Prof Nisar Hossain said the primary works are going on as the theme of the 'Mangal Shobhajatra' has not yet been set.
Chairman of the Department of Drawing and Painting Prof Shishir Bhattacharya is also supervising the preparation works.
This year's preparatory works are being supervised by the students of the 21st batch of faculty. Their works have been put on display for sale to raise funds for bringing out the procession as they do not take any donation from any organisation.
They are selling their artworks and paintings at different prices — some are selling from Tk 4'000 to Tk 5,000 while some others from Tk 500 to Tk 2,000.
Besides, Matir Soras are selling at Tk 500 to Tk 1,000, while big masks of king and queen at Tk 30,000, small masks at Tk 15,000, masks made of paper from Tk 500 to Tk 1,000, Mangal Shovajatra Pradwip at Tk 1,500, birds from Tk 100 to Tk 300 and locket at Tk 100 to Tk 1,500.
Mangal Shobhajatra is usually brought out, led by the DU vice-chancellor, in the morning in a traditional manner with different themes as part of the celebrations of the first day of Bangla calendar.
The decision to inscribe 'Mangal Shobhajatra' on Unesco's Representative List of Intangible Cultural Heritage of Humanity was taken on November 30, 2016 at the 11th session of the intergovernmental committee on intangible cultural heritage, held in Addis Ababa, Ethiopia.