Death toll from Banani FR Tower blaze climbs to 19
70 injured; fire now under control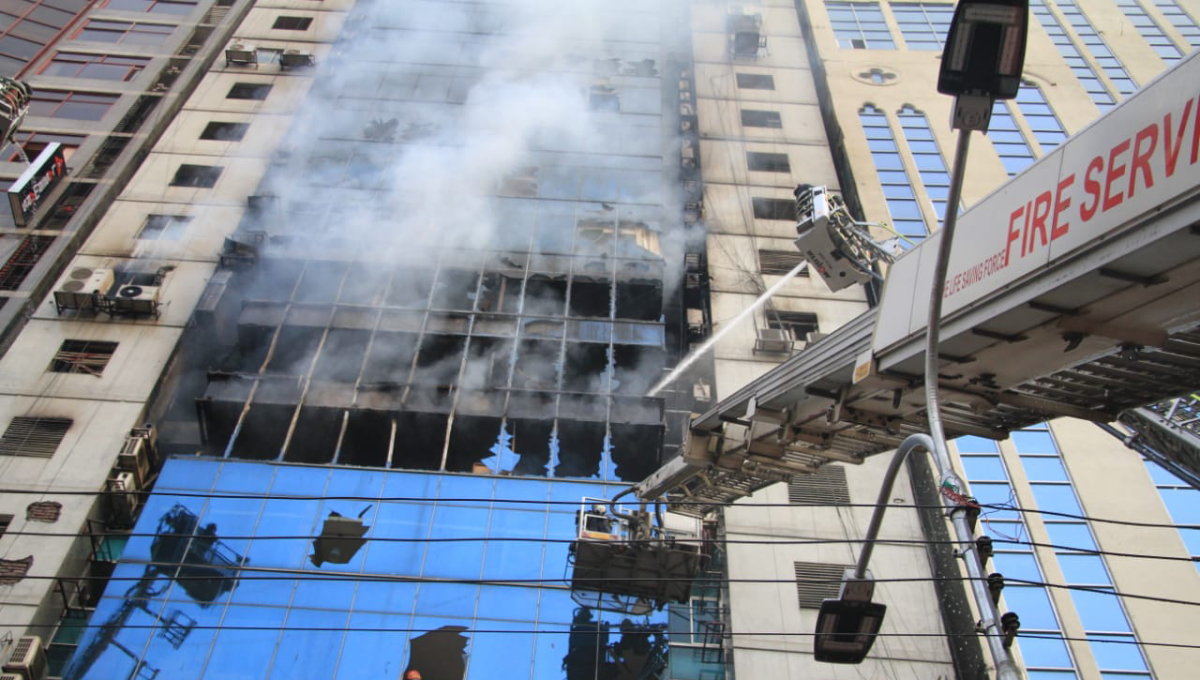 Dhaka, Mar 28 : The death toll from the devastating fire at FR Tower in the city's Banani area rose to 19 as 13 more bodies were recovered from the spot when the blaze was brought under control on Thursday evening.
The massive fire broke out at the multi-storey building at Kamal Ataturk Avenue around 12:45pm.
Khurshid Anwar,  senior station officer of Fire Service and Civil Defence, said 13 bodies were retrieved from the spot, while three died at United Hospital, two at Dhaka Medical College and Hospital (DMCH) and one at Kurmitola General Hospital.
Forty-one of the injured were admitted to Kurmitola Geberal Hosptial, 23 to United Hosptial, four to DMCH and the rest are to other hospital.dead when they were brought to the hospital from the spot.
The Fire Service and Civil Defence formed a five-member committee to investigate the fire incident.
Sazzadur Rahman, media and public relations executive officer of United Hospital, said three people were declared
The deceased are Monir,50, Mamun,36 and Maksudur,32.
Banani Clinic customer care executive SoumenHalder confirmed that one of Banani fire victims, Parvez Ahmed,55, died at the clinic.
Delwar Hossain, an administrative officer at Kurmitola General Hospital, said Nirash Chandra, a Sri Lankan national, was declared dead after he was taken to the hospital.
Besides, he said, 35 injured were admitted to the hospital.
Bachchu Miah, in-charge of Dhaka Medical College and Hospital (DMCH) police camp, said a man named Abdullah Al Faruque died at the hospital after he was taken there from the spot.
The fire broke out around 12:45 pm on the fifth floor of the 22-storey FR Tower and 20 firefighting units rushed to the spot.
The firefighters brought the blaze under control around 4:45pm, said Rasel, a duty officer at the Fire Service.
Many panicked people suffered injuries as they jumped off its different floors for safety.
Besides, around 30 people who fell sick due to suffocation were also taken to Kurmitola General Hospital.
Residents of the adjoining buildings left their flats fearing danger as huge black fumes were coming out of the building.
Many of the injured were taken to Kurmitola General Hospital.
Three helicopters of Air Force, Navy and Armyhave joined the operation to assist the firefighters.
Besides, fire service members rescued 20 people from adjoining 'Ahmed Tower' by breaking its grills, according to a witnesses account.
Many people were also rescued by breaking the windowpanes of the burning building.
Witnesses said many of the trapped people took shelter on the rooftop of the building from where around 20 people were rescued by helicopters.