President visits Combined Military Hardware Display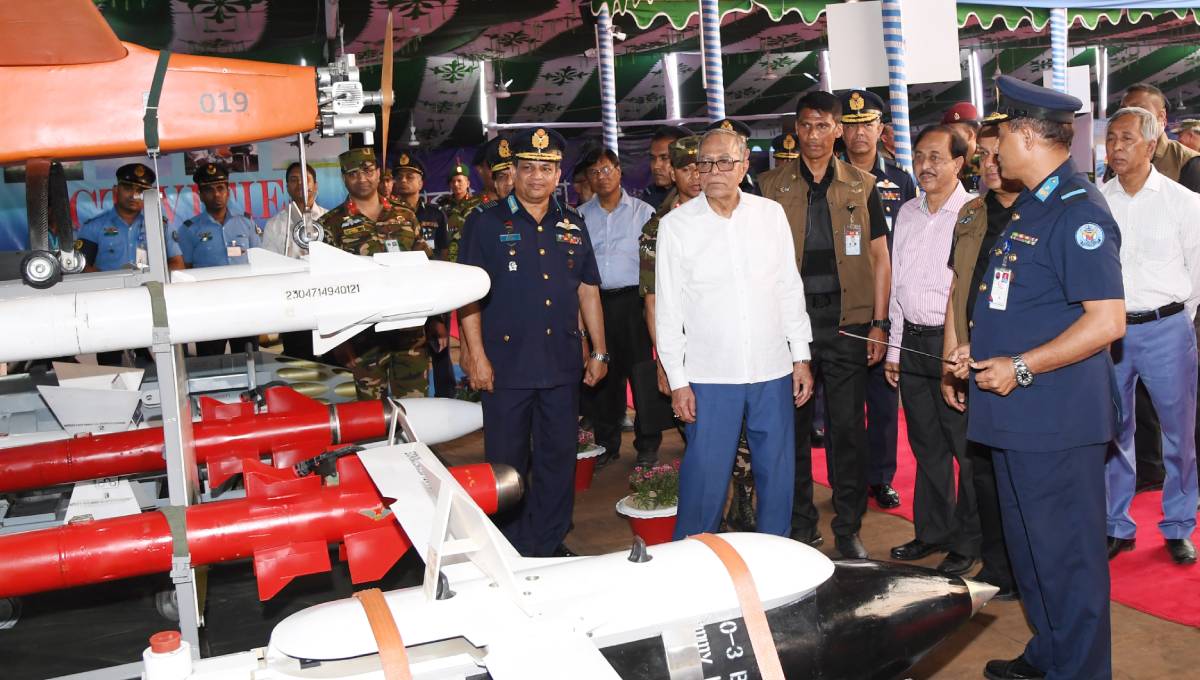 Dhaka, Mar 25 : President Abdul Hamid on Monday visited the Combined Military Hardware Display at the National Parade Ground in the city.
Chief of Army Staff General Aziz Ahmed, Chief of Naval Staff Admiral AMMM Aurangzeb Chowdhury, Chief of Air Staff Air Chief Marshal Masihuzzaman Serniabat and Principal Staff Officer of the Armed Forces Division Lt Gen Md Mahfuzur Rahman received the President upon his arrival at the ground.
Bangladesh Army, Bangladesh Navy and Bangladesh Air Force are exhibiting their hardware, including weapons, at the eight-day display.
A spectacular fly-past by six BAF warplanes and landing of Armed Forces paratroopers from military helicopters marked the ceremony at the scene.
The President went round different stalls and pavilions set up by the three forces and witnessed various light and heavy weapons being used by the troops. At that time, officials concerned briefed him on the hardware.
Four of the stalls were specially designed to portray the Armed Forces' contributions and bravery in 1971, their modernisation in the past 10 years during the Awami League government and their roles in UN blue helmet missions in different parts of the world.
An ISPR press release said the display would be opened for all from 9:30am to 5:30pm on March 26-31.
Special programmes will be held at the exhibition for students of schools and colleges in the capital from 12 noon to 5:30 pm on March 30.
The display is expected to draw family members of the Armed Forces personnel and students of the schools and colleges run by the three forces from 12 noon to 5:30pm on the last day on March 31.
Civil and military officials as well as secretaries to Bangabhaban were present on the occasion.
Prime Minister Sheikh Hasina inaugurated the Combined Military Hardware Display on Sunday.