Govt aims to reach benefits of independence to villagers: PM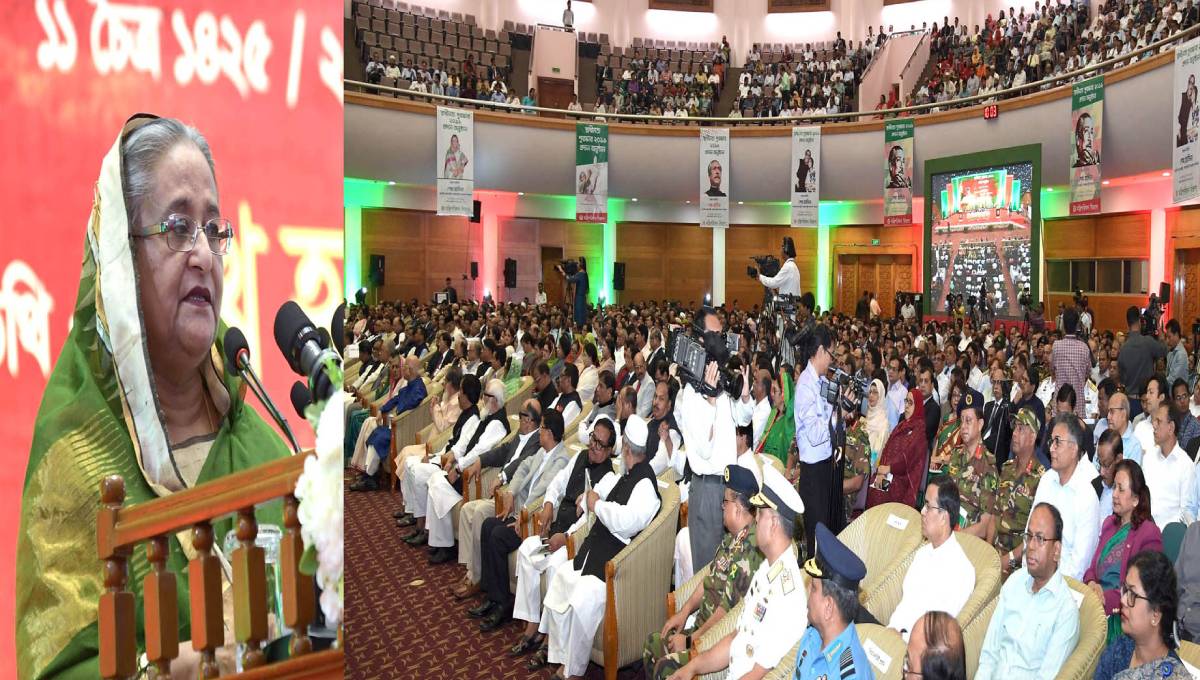 Dhaka, Mar 25 : Prime Minister Sheikh Hasina on Monday said the prime aim of her government is to reach the benefits of independence to each house in villages.
"Everyone will get a prosperous life… no one will be left hungry and homeless, and no one will suffer without treatment… everybody's life will be meaningful, beautiful and developed one. 'This is our aim …we're running the state to this end," she said.
The Prime Minister was distributing the "Swadhinata Padak-2019" (Independence Award-2019) at Bangabandhu International Conference Centre.
The Prime Minister said her government's efforts will be to reach the fruits of independence to all people. "This was the aim and dream of the Father of the Nation. Our target is to earn dignity as a developed nation in the world arena, we're working keeping it in mind."
Sheikh Hasina said the country now stands at a dignified position with the efforts of the last one decade as the GDP reached 8 percent and the per capital income USD 1909. "Now Bangladesh is a role model of development in the world … the whole world now looks at Bangladesh as a dignified country," she said.
The Prime Minister expressed her gratitude to the people of the country behind all the successes as they voted the Awami League to power again keeping their trust and confidence in the party.
Regarding the March 25 night of 1971, the darkest night for the people of Bangladesh, when the Pakistani occupational forces unleashed the most heinous attacks on the mankind, she said the government is giving its utmost efforts to get international recognition of genocide. Bangladesh observes the day as Genocide Day.
Sheikh Hasina said Bangladesh as a victorious nation would live in the world forever keeping its head high.
After the independence, she said, Bangabandhu turned the war-ravaged country into a complete state within three and a half years of his tenure.
The Prime Minister said the Independence Award would inspire the new generation to be imbued with the spirit of patriotism, carry out their responsibilities to the nation to take it forward in the future.
Hasina congratulated the recipients of the Independence Award-2019, saying the government has given the award this year to those personalities who have made immense contributions to independence as well as country's socio- economic advancement.
Chairman of the Parliamentary Standing Committee on Housing and Public Works Ministry and former Housing and Public Works Minister Mosharraf Hossain spoke on the occasion on behalf of the award recipients.