Oikyafront to form human chain in city on Mar 30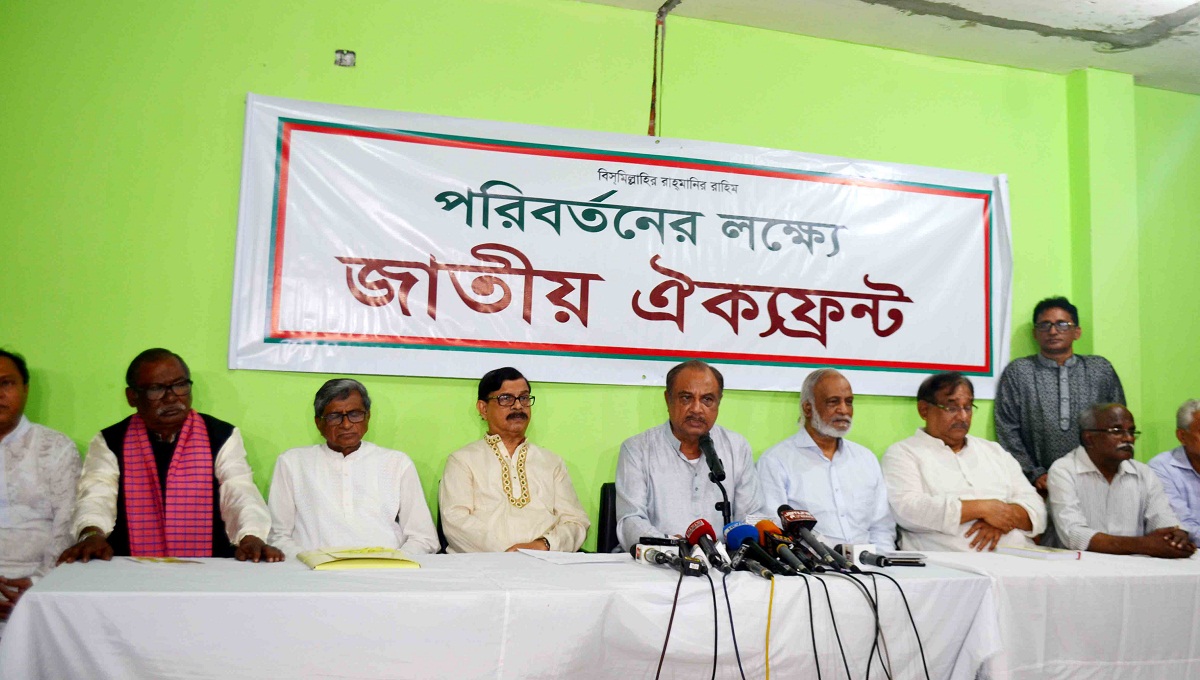 Dhaka, Mar 22 : Jatiya Oikyafront will form a human chain in the city on March 30 next to push for its various demands, including the annulment of gas-tariff hike proposal.
Leaders and activists of the alliance will form the human chain in front of the Jatiya Press Club at 11am.
Besides, Oikyafront will hold rallies and public herrings in different divisions and districts in April demanding reelection, cancellation of 11th parliamentary polls.
Nagorik Oikya convener Mahmudur Rahman Manna announced the programmes at a press conference after a joint meeting of steering committee of the alliance at its Old Paltan office.
Manna said they will form the human chain also to register their protest against the government's failure to ensure road safety, mismanagement in upazila polls, snatching students' votes in Ducsu polls, destroying election system and limitless financial inequality and plundering by the government.
"We'll also hold rallies or public hearings in all divisions and different districts in April to spread our movement across the country," he said.
The Oikyafront leader said people did not go to cast their votes in the recent upazila polls as they lost their confidence in the election system after 'vote robbery' on December 29 in the national election.
Under the circumstances, he said their alliance has decided to continue its movement to realise their demand for a fresh national election. "We'll wage a movement based on that demand, and will continue it until we get the victory."
Manna said their meeting also chalked out a two-day programme to mark the Independence Day.
As part of the programmes, he said leaders and activists of Oikyafront will place wreaths at the National Mausoleum in Savar at 9am on March 26.
The alliance will also will hold a discussion on March 31 at the Institution of Engineers, Bangladesh.
Jatiya Samajtantrik Dal president ASM Abdur Rob, BNP standing committee member Dr Abdul Moyeen Khan, Gono Forum executive president Subrata Chowdhury and general secretary Mostafa Mohsin Montu were, among others, present.