Help revive healthy politics: PM to Ducsu leaders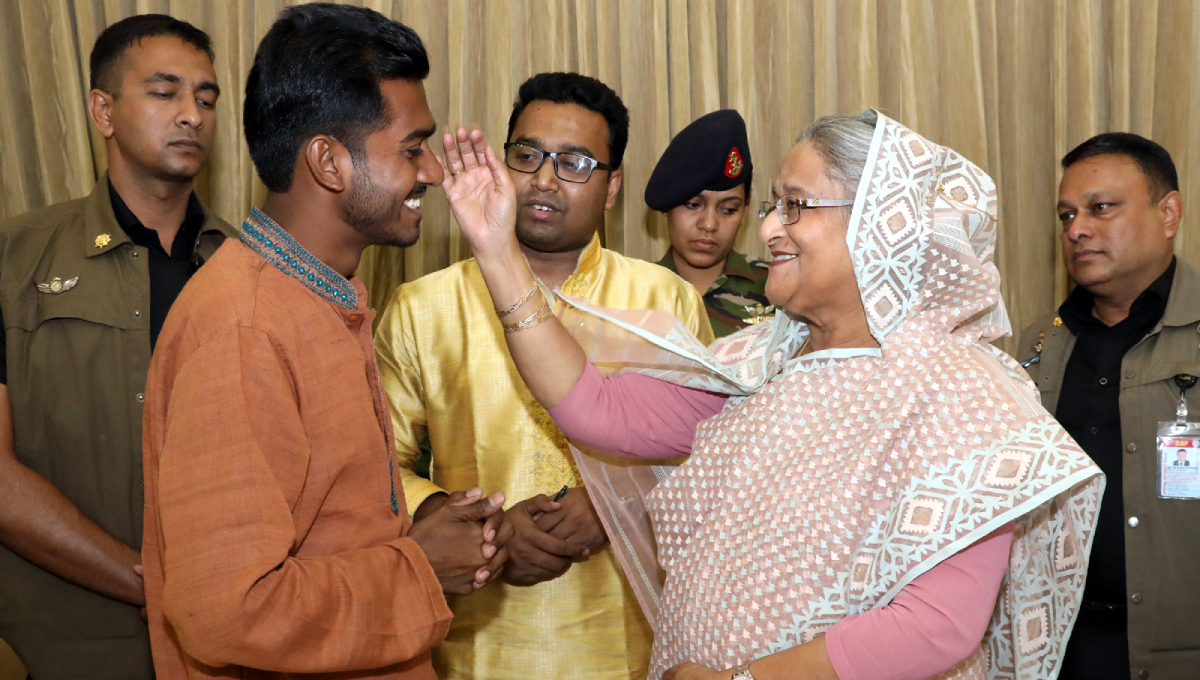 Dhaka, Mar 16 : Prime Minister Sheikh Hasina on Saturday urged the newly-elected leaders of Dhaka University Central Students' Union (Ducsu) to help revive the healthy politics in the country.
"This Ducus election is very important to create the leadership. Let the healthy political trend return to the country through this election. It's our job to bring back this healthy political trend," she said.
The Prime Minister made the call when the newly-elected Ducsu leaders, led by its Vice-president-elect Nurul Haq Nur and General Secretary-elect Golam Rabbani, met her at her official residence Ganobhaban in the afternoon.
Sheikh Hasina also urged the Ducsu leaders to learn how to lead Bangladesh in the future. "You'll have to learn how you can lead the future Bangladesh. So, love the country and its people. If you work to take the country towards development going beyond personal aspirations and gains, you'll be successful leaders. And this is the teaching of the Father of the Nation. You should follow this."
She said the government wants to equally ensure development of all sections of the country's people.
The Prime Minister said those who are followers of the ideology of Father of the Nation Bangabandhu Sheikh Mujibur Rahman work for the country's welfare and those who grabbed power suddenly did not do so. "That's why the country sees development whenever Awami League comes to power," she said.
"So, we'll have to go ahead with the Liberation War spirit. You'll have to promise that Bangladesh will be built with this spirit," she said.
Speaking on the occasion, Ducsu VP-elect Nurul Haq Nur expressed their gratitude to the Prime Minister for helping the DU administration arrange the Ducsu election.
He also demanded that the Prime Minister consider the issue of resolving the accommodation crisis at the dormitories of Dhaka University.
Nur said Bangabandhu is not the leader of Bangladesh but also the entire world.
Praising the Prime Minister, he said she embodies all the qualities of the Father of the Nation.
Bangladesh Chhatra League President Rezwanul Haque Chowdhury Shavon, Ducsu Assistant General Secretary Saddam Hossain and Vice-presidents of the hall unions spoke at the meeting moderated by Ducsu GS Golam Rabbani, also BCL General Secretary.
BCL-nominated Sammilita Shikkharthi Parishad panel swept the Ducsu polls securing all the posts of its 25-member executive committee except the VP and social services secretary positions.
In the March-11 Ducus and hall union polls, BCL, the student wing of Bangladesh Awami League, won the full panel in most of the halls and secured 23 posts in the central union.
Bangladesh General Students' Rights Protection Council-backed candidate Nurul Haq Nur was elected Ducsu VP while BCL panel-nominated Golam Rabbani won general secretary (GS) post.