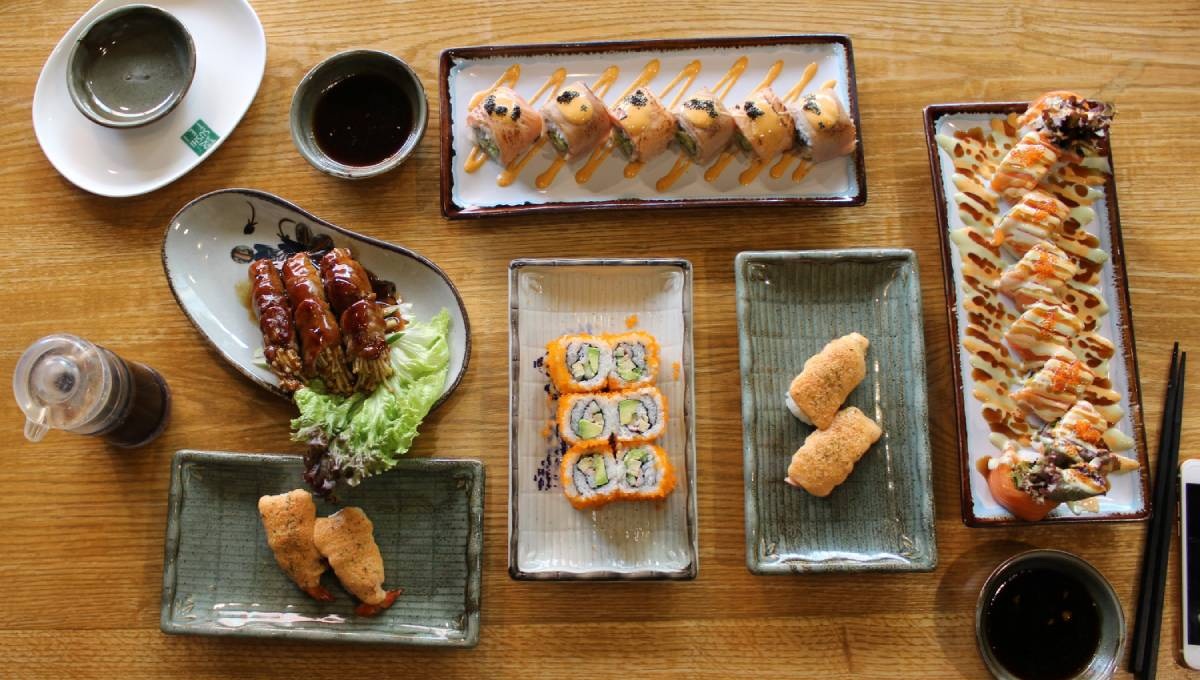 Dhaka, Mar 14 : Sushi Tei is not your average fusion sushi restaurant. So, it might not be everyone's cup of tea. Upon entering, we were greeted in Japanese loudly by every member of the staff which is very unique in Bangladesh. The atmosphere was brightly lit, and it seemed like they could house over 100 customers at a time. The staff who was assigned to our table was knowledgeable about the menu and ensured that the food came promptly without any compromise to its presentation.
First came the appetiser: the Hanasaki Ika Tempura (squid) and Chuka Wakame (seaweed). This fried squid was different not only in terms of its shape but also the flavour. The smelt roe adds a burst of sweetness despite being so tiny. The seaweed also had a subtle sweetness to it and if I had to describe the texture in a word, it would be rubbery.
Next arrived the sushi and sashimi! The Mentai and California Maki looked neat and the portions were great compared to the price point. I cannot begin to rave about how delicious the mentai sauce is. The Dai Dai roll and Spicy Aburi Maguro & Salmon Roll were nothing too special. I didn't like the idea of mango in a savory sushi on the other hand, the Spicy Maguro's fish tasted meaty, smooth, and buttery for a fish but the other ingredients just did not do justice to such a fine protein. The Gyuniku Roll is what I saw pictures of the most on social media. The thin slices of beef had more of a teriyaki flavour to it which I loved! However, beef and mushroom, maybe too much meatiness?
One of my favourite dishes was the Salmon Mentaiyaki (Grilled Salmon with Cod Roe & Mayonnaise sauce). Again, the Mayo sauce won the show complimenting a side of grilled salmon which had a crispy exterior and a beautiful, soft, and pink salmon meat.
For the Chicken Katsu/cutlet, slices of chicken breast were served with velvety and satisfying gravy and a side of rice. The gravy was thick with an umami flavour to it and the cutlet itself was really juicy though it looked dry. I would highly recommend this dish to anyone who wants a safe option at a Japanese restaurant. We ordered a side of Spicy Fried Rice, too. I could definitely taste the spiciness at my first spoonful, but it was the good flavoursome spiciness that would keep you craving for more. There were enough crabmeat and chunks of squid, so you will definitely get your bang for the buck.
While Sushi Tei abroad is a place from grabbing a quick bite, in Bangladesh it is considered to be quite a pricy experience. Their prices range from BDT 250 all the way upto BDT 2400. What I appreciate from the franchise is that they have started offering Bento boxes and student meals, which are always hits amongst Bangladeshi consumers.