Bangladesh becoming role model of women empowerment: FM
Women empowerment stressed to achieve SDGs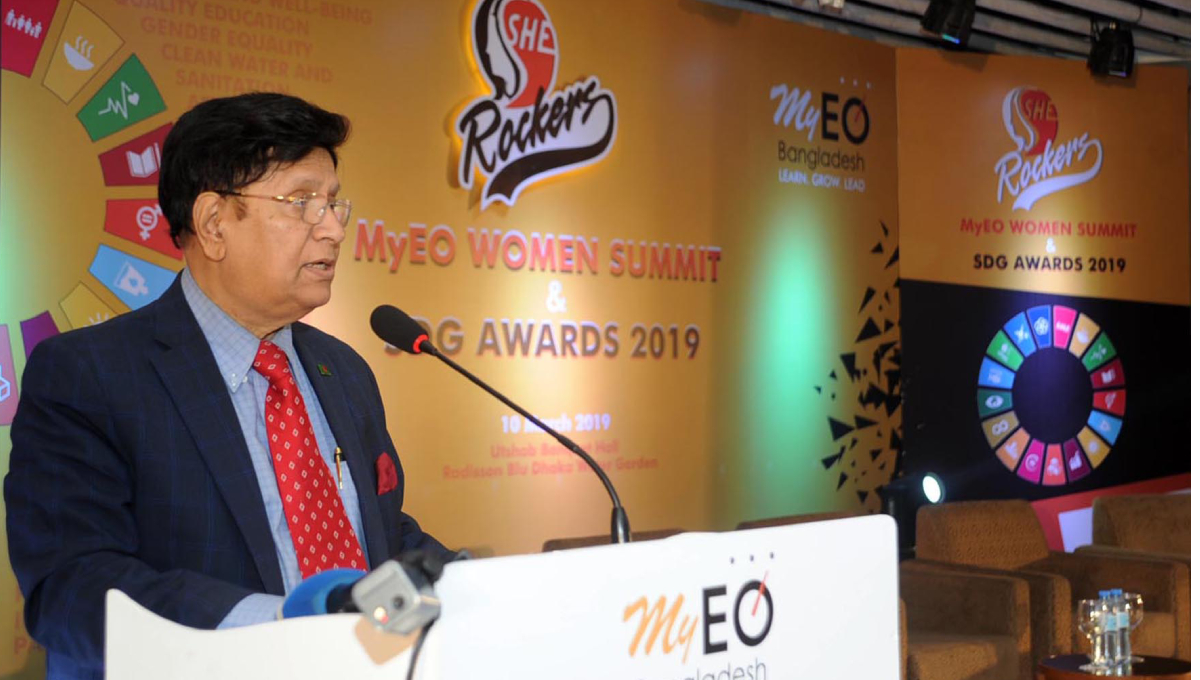 "We're vying to break many glass ceilings by inducting qualified women in the judiciary as judges, armed as generals and police services, administrative as secretaries, diplomatic assignments as ambassadors and entrepreneurship," he said.
The Foreign Minister made the remarks while inaugurating a summit titled "She Rockers MyEO Women Summit" and "She Rockers MyEO Women SDG Award 2019" at a city hotel.
Bangladesh Chapter of Entrepreneur Organization (EO), the world's largest peer-to-peer global network of entrepreneurs organised the summit.
Global Chairperson of Entrepreneur Organization (EO) Bubu Andres joined the event as a guest of honor while President of EO Bangladesh Chapter Farzana Chowdhury delivered the welcome speech.
In terms of political empowerment of women, the Foreign Minister said, Bangladesh is one of the few countries of the world that has a woman Prime Minister, a woman Speaker of Parliament, several cabinet ministers and female parliamentarians.
He described various far-reaching and wide-ranging initiatives taken by the government to ensure all-inclusive empowerment of women and said Bangladesh government introduced gender budget that is unique in the world.
"We're proud of our female peacekeepers who are holding our flag high in many UN peacekeeping missions," he said.
Dr Momen said women empowerment is one of the 10 special initiatives of Prime Minister Sheikh Hasina, the progress of which she oversees herself.
In fact, he said, the historic adoption of the 2030 Development agenda, with its core mission "leaving no one behind" is a powerful message to women empowerment.
The 2030 Agenda, and its 17 cross-cutting goals especially Goal 5 Gender Equality, make it clear that development will only be sustainable if its benefits accrue equally to both women and men, said the Foreign Minister.
"We have 57 percent of our women engaged in the workforce, with 80 percent forming the backbone of our ready-made garments sector, and the growing number of female migrant workers contributing to our economy by bringing in their hard-earned remittances," he said.
The Foreign Minister mentioned that EO Bangladesh is striving to provide a platform for women entrepreneurship which is quite aligned with the Prime Minister's vision.
Andres highly appreciated the achievement of Bangladeshi women entrepreneurs and said the country's women are largely helping Bangladesh keep it on the right path of development.
"Women are leading the world staying beside men and putting their mark of excellence everywhere. But barely we do know about their successes and challenges throughout this journey," she said.
Farzana said, "She Rockers" is an initiative for honoring and inspiring entrepreneurship of women of Bangladesh as talent must be nurtured, achievements and endeavor must be encouraged.
Two panel discussions were also held in two phases, about women empowerment and equality of men and women.
Women entrepreneurs in the summit laid emphasis on the need for full inclusion of womenfolk in the country's development spree for achieving the United Nation's Sustainable Development Goal (SDG) five that relates to gender equality and women empowerment.
They said Bangladesh has made commendable success in achieving women empowerment in last one decade but more government support is needed to establish a gender equal society as "no change" is possible excluding women.
At the end of the summit, the EO Bangladesh chapter was scheduled to confer award on 21 Bangladeshi women entrepreneurs in recognition of their contributions towards achieving SDG-5 that targets for gender equality and empower all women.
The EO is a Global business network of more than 13,000 leading entrepreneurs in 58 countries that enables business owners to learn from each other.
In 2016, the EO Bangladesh chapter started its journey here with the country's leading entrepreneurs.