Seven Unsung Women Change Makers awarded for contributions towards development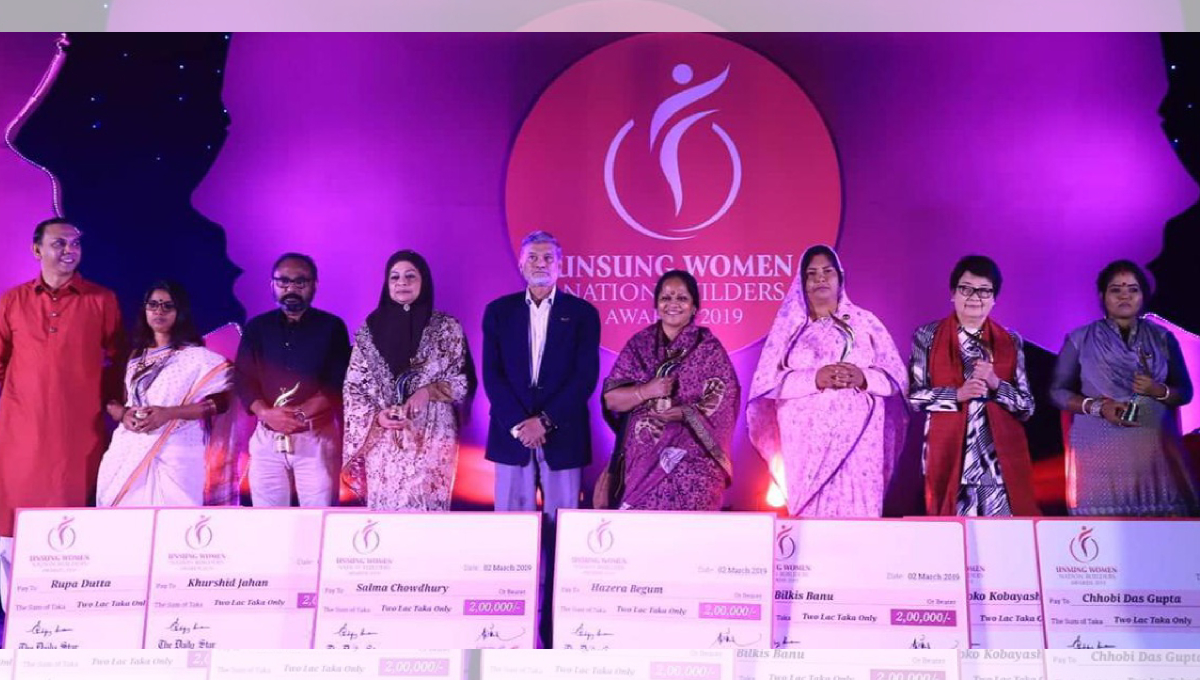 Dhaka, March 2 : Seven women have been awarded for playing a role in education, health, agriculture, self-development, courageous act and entrepreneurship in the country.
The women were presented with awards along with the opportunity to share their stories in the third year of "Unsung Women Nation Builders Awards' held at a gala programme at the International Convention City Bashundhara (ICCB) in the capital.
As the chief guest of the programme, Planning Minister Muhammad Abdul Mannan handed over the crest and a cheque worth Tk 2 lakh to each awardee.
The seven Unsung Women Nation Builders Awardees 2019 are Hazera Begum, Khurshid Jahan, Hiroki Kobayashi, Bilkis Banu, Rupa Dutta, Salma Chowdhury and Chhobi Das Gupta.
The Daily Star, in association with IPDC Finance Limited, has taken a noble initiative to honour these unsung heroes of the nation and provide them with a platform where they were celebrated for defying obstacles and contributing towards the socio-economic development of the country.
Mahfuz Anam, editor and publisher of The Daily Star said: "Wealth and power are necessary to be able to bring changes. The seven women will prove to us that all one needs to be a change maker is love for others, and nothing else.
"They are the examples of how we can collectively work to make our Sonar Bangla," he also said.
MA Manna said that many people are in our society and contributing vastly here but we do not know about them. The organizers tried to look for some of them. I appreciate the authorities concerned.
"We need the contributors for the country. We will aware more and look for them so that such persons are created in the country. We know huge unsung persons are here we have to look for them. We want to go forward with all," he also said.
More than 100 nominations were received and the jury selected the awardees based on their contribution in nation building this year.
This year the Jury Board consisted of renowned personalities of the nation: Rubana Huq, managing director of Mohammadi Group; Rasheda K Choudhury, executive director of Campaign for Popular Education (CAMPE), and Anisul Hoque, an author, screenwriter, novelist, dramatist and journalist.