Voting in DNCC, DSCC polls ends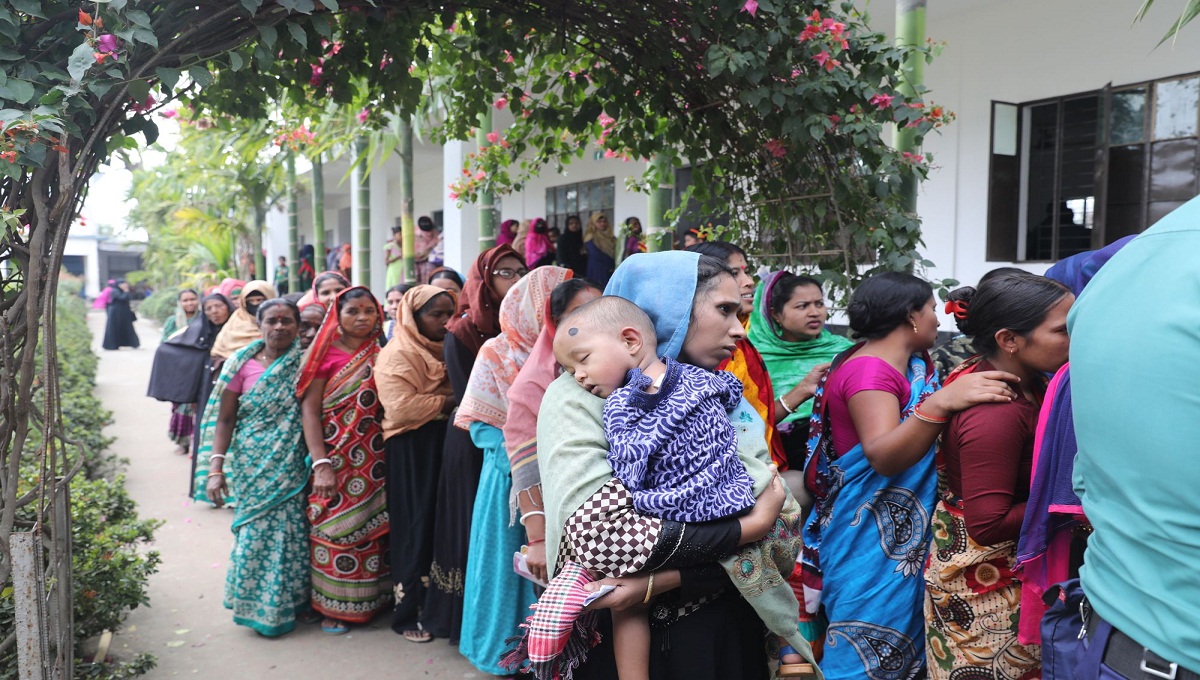 Dhaka, Feb 28 : Voting in the by-election to the mayoral post of Dhaka North City Corporation (DNCC) and polls to councillor posts in its 18 new wards and 18 other new wards of Dhaka South City Corporation (DSCC) concluded on Thursday afternoon amid low voter turnout.
The balloting that began at 8am ended at 4pm.
Awami League's Atiqul Islam cast his vote around 9:10 am at Nawab Habibullah Model School and College polling centre in city's Uttara area.
Singer Shafin Ahmed, Jatiya Party's mayoral candidate, cast his vote at Manarat International School centre in the city's Gulshan area around 12:20pm.
Visiting different polling stations, it was seen that the voter turnout was poor in the morning due to rain since early Thursday.
However, voter presence was relatively higher in the elections to councillor posts in the new wards.
In the first four hours of voting, election officers, polling agents and law enforcers were seen spending time idly at many centres in Gulshan, Mohakhali, Tejgaon, Mohammadpur and Uttara areas as the presence of voters was very low.
With the passage of time, the presence of voters started growing a bit after 12pm.
Presiding officers at the polling stations said bad weather is the main reason behind thin presence of voters.
Meanwhile, Chief Election Commissioner KM Nurul Huda said the low voter turnout in the ongoing elections to the two city corporations is not the liability of the Commission.
"It's the responsibility of candidates and political parties to bring voters to polling centres," he said while talking to reporters after casting  his vote at IES School and College Polling Station in the city's Uttara area.
The CEC said it is the commission's responsibility to create an election environment, not to bring the voters to polling stations.
Replying to a journalist's question, the CEC said, "Although the voter turnout remained low in the morning, it'll increase at the end of the day."
Pointing out to two reasons behind the low turnout, Huda said voters are not interested in voting because some major political parties are not participating in it.
In the DNCC, five candidates are vying for the mayoral post, while 116 contenders for 18 general councillor posts and 45 aspirants for six reserved seats which are exclusively for women. Of them, one general councillor candidate was elected unopposed in the city.
The five mayoral candidates are Awami League's Atiqul Islam (Boat), Jatiya Party's Shafin Ahmed (Plough), NPP's AnisurRahman (Mango) and PDP's Shahin Khan (Tiger) and independent runner Abdur Rahim (Table Clock).
The mayoral post fell vacant after former mayor AnnisulHuq passed away on November 30, 2017. The last mayoral election held on April 28, 2015 saw a high-octane campaign by both Awami League's Annisul and BNP's TabithAwal unlike this by-election.
In the DSCC, there are 125 contestants for 18 general councillor posts and 24 women for six reserved seats.