Amar Ekushey Book Fair ends Thursday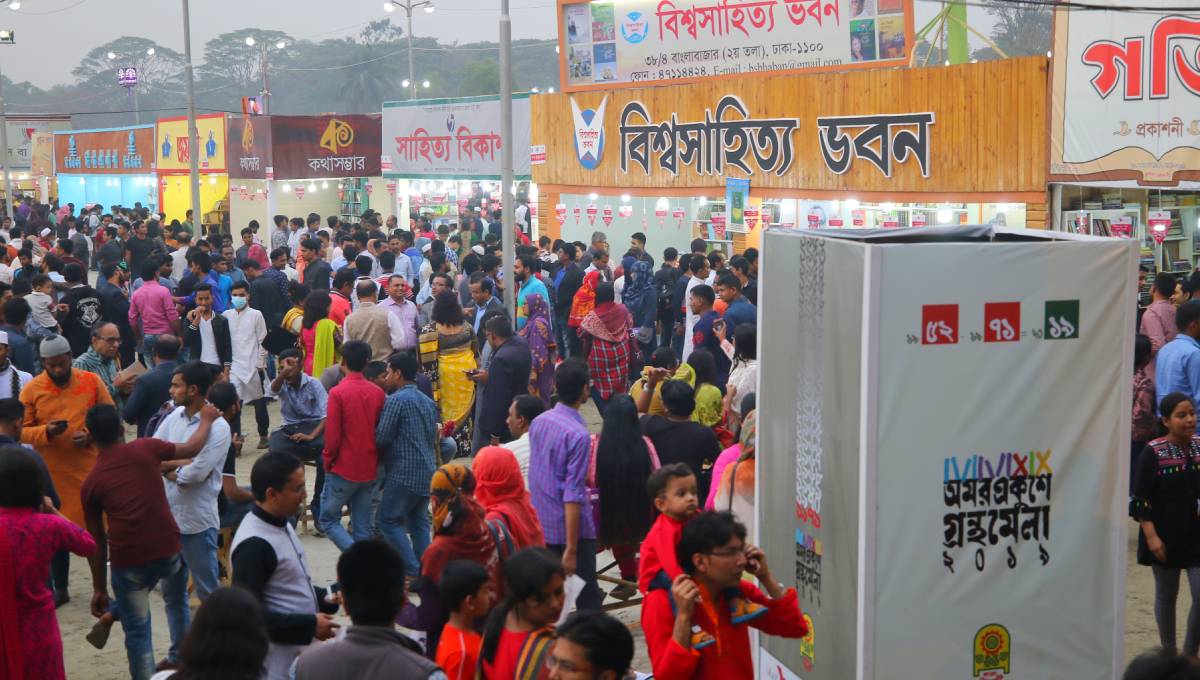 Dhaka, Feb 27 : The month-long Amar Ekushey Book Fair, a yearly event for book lovers and publishers, will come to an end on Thursday.
State Minister for Cultural Affairs K M Khalid will be present as the chief guest while president of Bangla Academy Emeritus Professor Anisuzzaman will preside over the concluding ceremony.
Director of the Academy and member secretary of the Amar Ekushey Book Fair 2019 Jalal Ahmed will present the report of the fair while Director General of the Academy Habibullah Siraji will deliver the welcome speech.
A total of 4284 books have hit the fair till 26th day already well surpassing two year's Boi Mela release of 4134 and 3646 books respectively.
Display and sale of books apart, the book fair had daily discussion events on various themes and personalities at 4 pm at the main stage of the Academy premises.
At the closing ceremony, the Bangla Academy will hand over awards to the winners of its "Gunijon Sahitya Puroskar" chosen from among the publishing houses participating at the Amar Ekushey Book Fair.
'Kothaprokash' will receive the "Chittaranjan Saha Smriti Puroskar 2019," while "Munier Chowdhury Smriti Puraskar 2019" will be given for the publication of aesthetically rich and standard content in books published in 2018.
The award will be received by Prothoma publication for Bidrohi Ronoklanto by Golam Murshid, Journey Books publication for Monorothe Shilper Pathe by Moinuddin Khaled and Chandrabati Academy for Muthor Vetor Rod by Maruful Islam.
The "Rokonuzzaman Khan Dadabhai Smriti Puraskar" will be awarded to the Panjaree Publication for publishing excellent books for kids while "Qayyum Chowdhury Smriti Puraskar" will be given to three publications — Maddoma (Single Unit), Batighar (Multi-Unit) and Panjaree Publication (Pavilion) for best interior design which is aesthetically rich.
Like the previous years, the venue of the fair was extended to nearby Suhrawardy Udyan with huge changes.
This year, the land earmarked for the fair was expanded to 550,000 square feet 37,000 more than the previous year. A total of 770 units were allocated to 499 organisations
The authorities allotted a total of 150 units at the Bangla Academy ground to 104 organisatons and 620 at the Suhrawardy Udyan to 395 organisations.
Besides, 24 pavilions have been allocated for 24 publishing houses, including Bangla Academy.