Rohingyas eating up much of Bangladesh forests: FM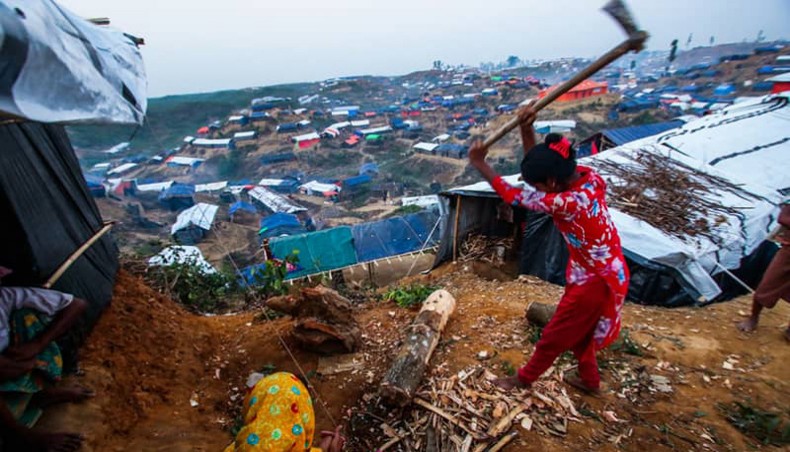 Dhaka, Feb 24 : Foreign Minister Dr AK Abdul Momen on Sunday said over 1.2 million Rohingyas living in Cox's Bazar district of the country are eating up much of Bangladesh's forests creating environmental disasters.
He, however, said Bangladesh has already been considered as a role model in the management of natural disasters and noted "tremendous success" the country achieved in addressing the impacts of climate change.
The Foreign Minister was addressing the inaugural session of annual thematic meeting of the Platform on Disaster Displacement (PDD) held in a city hotel as the chief guest.
The theme of the event is "Striving together for addressing displacement due to slow and sudden-onset disasters".
Principal Secretary to the Prime Minister M Nojibur Rahman, Senior Secretary, Ministry of Disaster Management and Relief M Shah Kamal and France Ambassador in Dhaka Marie-Annick Bourdin, among others, spoke at the inaugural session.
The Foreign Minister laid emphasis on joint efforts to address the issues related to climate change and disasters as one single country cannot do it alone.
Bangladesh as the current Chair of the PDD in collaboration with International Organization for Migration (IOM) is hosting the event.
The meeting is exploring issues related to human mobility — displacement, migration and planned relocation — in the context of both sudden-onset disasters like tropical cyclones, tidal bore, tsunami, earthquake, landslide and volcanic eruption.
It is also exploring slow-onset events and processes like sea level rise, river erosion, salinity, flood, drought,many of which are inter-related and are results of environmental degradation due to climate change.
The meeting is also discussing how protection can be best ensured for displaced persons and persons at risk of displacement, including through effective disaster risk reduction (DRR) and climate change adaptation and mitigation strategies in national, regional and international levels.
State Minister for Foreign Affairs Shahrial Alam and State Minister for Disaster Management and Relief Dr Md Enamur Rahman are scheduled to take part in the closing session of the event.
Senior Secretary, Ministry of Foreign Affairs Md Shahidul Haque will be chairing the meeting.
Over a hundred participants representing governments of the Steering Group of the Platform on Disaster Displacement, participants from other governments as well as representatives from regional and international organizations, UN Agencies, civil society organisations and research institutions are attending it.