Bid to 'hijack' Biman aircraft foiled; suspected hijacker killed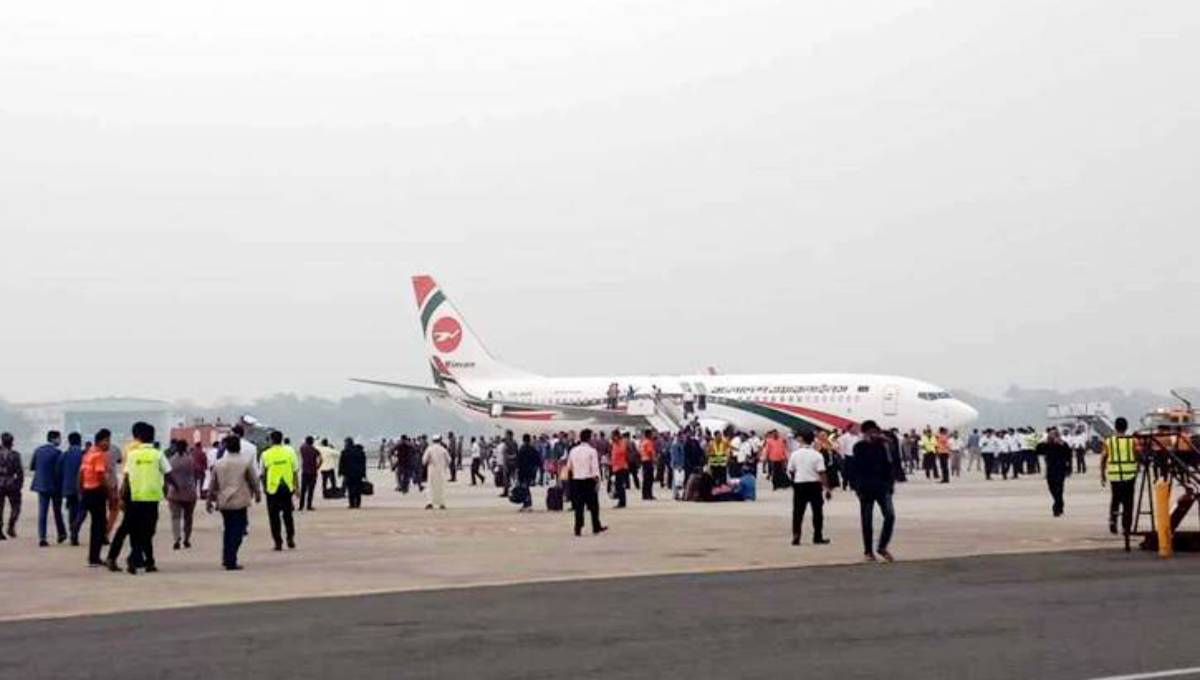 Chattogram, Feb 24 : Foiling his alleged bid to hijack a Biman Bangladesh Airlines aircraft, members of joint forces killed a suspected hijacker at Shah Amanat International Airport here on Sunday evening.
The suspected hijacker, Mahadir, was overpowered and arrested during an eight-minute combing operation that began around 7:17pm, said Air Vice Marshal M Naim Hassan, Chairman of Civil Aviation Authority of Bangladesh (CAAB), while briefing reporters at his office in the capital.
Later, he died at a hospital, said Major General SM Matiur Rahman, general officer commanding of 24th Infantry Division and Area Commander of Chattogram, at a press briefing at the airport here.
He said they arrested the suspected hijacker in an injured condition and took him to a hospital where succumbed to his wounds.
The CAAB chairman said the Dubai-bound Biman flight via Chattogram carrying 134 passengers, including four children and nine foreigners, and seven crewmembers took off from Hazrat Shahjalal International Airport at 5:13pm and it made landing at the Chattogram airport at 5:41pm.
Just before the aircraft made its landing, the suspect started talking incoherently brandishing a firearm, the CAAB chairman said. "He said he had in feud with his wife and wanted to talk to the Prime Minister. It seemed to me that he was psychologically imbalanced. He's not a professional hijacker."
Naim Hassan said two probe committees – one by the CAAB and the other by the ministry — will be formed to look into how the passenger had been able to take the gun into the aircraft dodging security arrangements at the airport.
He also said the Chattogram airport which was closed due to the incident resumed its operation around 8pm. The flight will also depart for its destination, Dubai, he said.
Asked whether the suspected hijacker is a foreigner, the CAAB chairman said he spoke Bangla.
A joint team of the para-commando wing of Bangladesh Army, Bangladesh Air Force, Rapid Action Battalion and police conducted a drive at the aircraft and held the suspected passenger who was also injured in the operation, said Air Vice Marshal Muhammad Mafidur Rahman while briefing reporters at the Chattogram airport.
A crewmember who was reportedly held hostage by the man was also rescued.
Earlier, all the passengers and pilots of the Dubai-bound flight from Dhaka were evacuated from the aircraft safely, said Shakil Miraj, Biman general manager (Public Relations).
Biman Manager (PR) Tasmin Akhter said the flight made the emergency landing suspecting a passenger to be a hijacker.
Later, members of Rab, Army, Air Force and police cordoned off the aircraft.
Meanwhile, officer-in-charge of Patenga Police Station in Chattogram Abul Quashem said two bullets were fired in the aircraft.
Earlier, Civil Aviation and Tourism Secretary Mohibul Haque told, all the passengers were evacuated from the aircraft following the suspicious behaviour of a passenger.
He also said two crew members were talking to the suspected man.