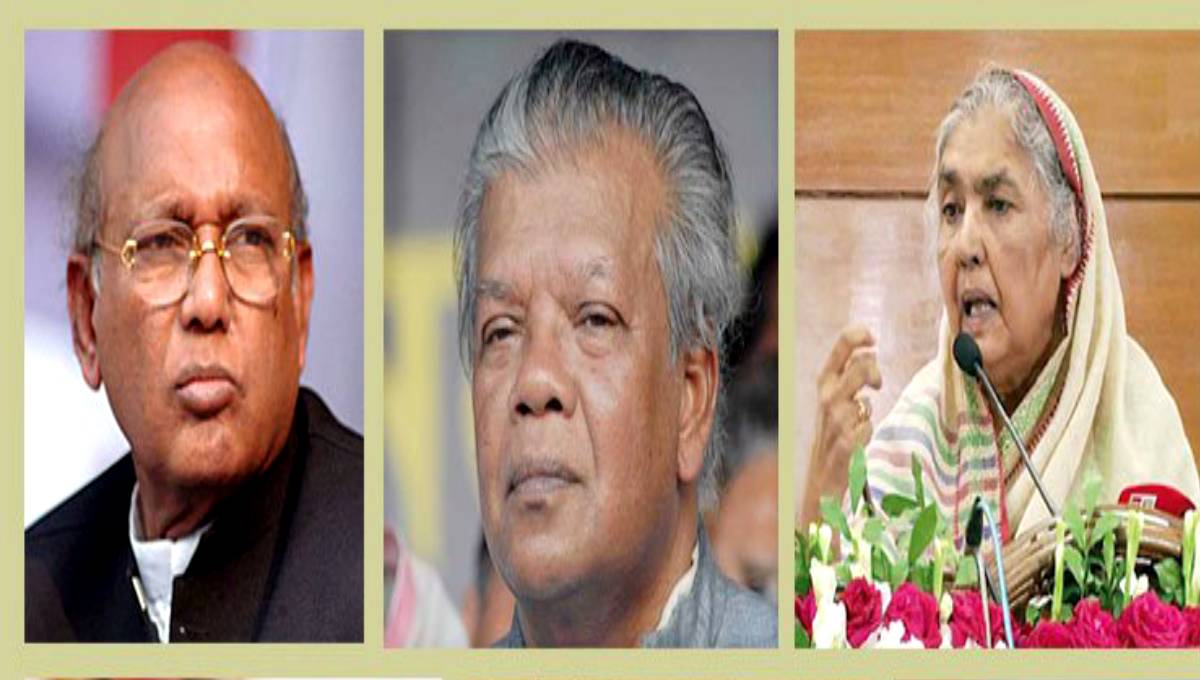 Dhaka, Jan 6 : Thirty-four members of the outgoing cabinet, including 23 ministers like Amir Hossain Amu, Tofail Ahmed, Matia Chowdhury, Rashed Khan Menon and Hasanul Haq Inu, have been dropped from the upcoming cabinet.
There will be 24 ministers, 19 state ministers and three deputy ministers in the new cabinet to be constituted on Monday.
However, 23 ministers, nine state ministers and two deputy ministers of the present cabinet have not found their names in the new cabinet.
Besides, Public Administration Minister Syed Ashraful Islam passed away on January 3 while two technocrats minister Nurul Islam BSc (Expatriates' Welfare and Overseas Minister) and (Religious Affairs Minister Matior Rahman) who resigned as per the Prime Minister's directives the 11th parliamentary election are also not part of the new cabinet.
The 23 ministers who have been left out of the new cabinet are Finance Minister AMA Muhith, Industries Minister Amir Hossain Amu, Commerce Minister Tofail Ahmed, Agriculture Minister Matia Chowdhury, Health and Family Welfare Minister Mohammed Nasim, Foreign Affairs Minister AH Mahmood Ali, Shipping Minister Shajahan Khan, Education Minister Nurul Islam Nahid, Local Government, Rural Development and Cooperatives Minister Khandker Mosharraf Hossain, Social Welfare Minister Rashed Khan Menon, Information Minister Hasanul Haq Inu, Housing and Public Works Minister Engineer Mosharraf Hossain, Disaster Management and Relief Minister Mofazzal Hossain Chowdhury Maya, Environment, Forest and Climate Change Minister Anisul Islam Mahmud, Water Resources Minister Anwar Hossain, Railways Minister Md Mazibul Hoque, Primary and Mass Education Minister Mostafizur Rahman, Cultural Affairs Minister Asaduzzaman Noor, Land Minister Shamsur Rahman Sherif, Food Minister Qamrul Islam,  Fisheries and Livestock Minister Narayon Chandra Chanda, Civil Aviation and Tourism Minister AKM Shahjahan Kamal and Textiles and Jute Minister Emaz Uddin Pramanik.
Of them, Muhith had earlier announced that he would retire from politics and he did not participate in the election, too. His brother AK Abdul Momen who won the election from Sylhet-1 constituency has been made Foreign Affairs Minister in the new cabinet.
Maya failed to get Awami League ticket for contesting the election.
The state ministers who did not find any place in the new cabinet are State Minister for Labour and Employment Md Mujibul Haque Chunnu, State Minister for Textiles and Jute Mirza Azam, State Minister for Youth and Sports Dr Biren Sikder, State Minister for Public Administration Begum Ismat Ara Sadique, State Minister for Women and Children Affairs Begum Meher Afroze, State Minister for Information Tarana Halim, State Minister for Water Resources Muhammad Nazrul Islam, State Minister for Rural Development and Cooperatives Mashiur Rahman, State Minister for Technical And Madrasha Education Kazi Keramat Ali.
The deputy ministers are Abdullah Al Islam Jakob (Environment, Forest and Climate Change) and Arif Khan Joy (Youth and Sports).